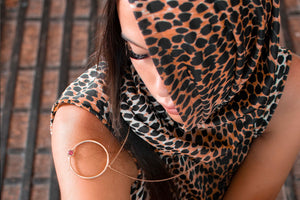 Garavelli is the name of our family. For generations, jewellery-making has been our art and our life, spent among gold, diamonds, precious stones, luxury and excellence.

At the helm of the family, the first to dive into this adventure was my great-grandfather, Mario Garavelli, in the early 1900s.

He was followed by my grandfather, Aldo Garavelli, who built on the dream...

...and then my mother, Kira Garavelli and my father, Giancarlo Molina, who took the same dream to faraway lands. Now, my brother, Stefano, and I, wish to give you a glimpse into the mystery of our craft.


Today, it's easy to hide behind a brand name. Once they are stamped by an illustrious brand, many products fail to exude their history… the passion behind it all!

How could we hide the passion that was infused in our souls by our ancestors? To this day all of our collections are created by us, the stones are personally and individually hand-picked, then set in metal by our in-house team of setters, whom we trust will deliver to our exacting standards.

Before our precious jewelry becomes yours, it is alive in our vision, handcrafted and cared for until it becomes a cherished heirloom or a token of someone's love.
 Elisabetta 
SINCE 1920...
GARAVELLI started out in the early 1900s as a small shop, named after its founder Mario Garavelli, and known since its inception for the unique, high-quality creations it produced. After all these years, GARAVELLI prides itself in bringing innovation and a fresh perspective to the jewellery-making craft. This transition would have been impossible without Aldo GARAVELLI, Mario's son, who conquered a prominent position in the European and American market with a true pioneer's spirit. Under Aldo's guidance, GARAVELLI has grown to become one of Italy's first exporters in the jewellery sector.
"The Woman, this divinely beautiful mystery has inspired poetry, music, literature and, since its beginning, the art of jewellery-making. One talks, writes or paints of Her and exalts Her.
And for us, who weave golden threads, joining them with precious stones, we search for Her with our awl in the metal, we invent new things for Her every day, and nothing compares with Her beauty, nothing satisfies us… and we therefore continue in our never-ending search!"
ALDO GARAVELLI
FROM THE ARCHIVES
The value of a jewel is not only the result of the precious materials used in its production, but of the time and experienced work of our craftsmen, acquired through a lifetime of work. The designer and the polishers, the stone setters and the rhodium platers of Garavelli factory are all represented in the essence of each jewel produced.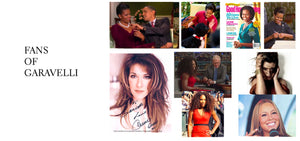 FANS OF GARAVELLI
After 100 years, the Garavelli name has had the privilege on being adorned by the world's biggest stars -- from Celine Dion to Mariah Carey, Kelly Clarkson to Serena Williams (https://www.youtube.com/watch?v=woYAEnHRiEc - Red Carpet by Carrie Soucy - KELLY CLARKSON: Since U Been Gone). Yet the legacy of our company is revealed most in the selection of our Rose pendant by President Barack Obama as an anniversary present for Michelle. In this singular gift, President Obama boasted to Oprah Winfrey that he should be forever acknowledged as the best gift giver. We agree.
In photos taken during Oprah Winfrey's "Christmas at the White House" special in December 2009, the First Lady shows the beautiful Garavelli pin leaning against a precious double pearl necklace. On special official occasions, such as a trip to Oslo, visiting the Nobel Prize Museum, as she is portrayed signing the register of illustrious guests, she shows the Garavelli brooch as the only jewel in the classic dark dress. Mrs. Obama continues to select the Garavelli Rose as her jewel of choice for special occasions. (Official White House Photo by Pete Souza - Oslo Photo by Marte Garmann Johnsen)
FROM THE ARCHIVES: In the Press...
The spirit of the brand has always been to follow the fashions of the runways, transforming the styles, colors and trends into precious gems.
Instead of just providing classic jewelry, our goal is to give women a fashion accessory, something that makes them feel unique and original. In achieving our goal, Garavelli has become a favorite of magazine editors worldwide.
Our stories continue through You, our most precious customer.....